Independent Contractor
Do you have a talent or skill you want to share with others? The City of Orangeburg Parks and Recreation Department is seeking energetic, creative, and responsible independent contractors to instruct educational and/or recreational classes and programs in a variety of disciplines for all ages. We are seeking experts in the following areas who can offer something NEW and different that we do not already offer. Categories include:
• Visual Arts & Crafts
• Jewelry Making
• Music
• Theater
• Dance
• Cooking
• Sports
• Dog Obedience/Training/Safety
• Do-It-Yourself Skills
• Communication & Social Skills
• Foreign Language
• Safety Awareness
• Science
• Hobbies
• Your original idea?
Essential Duties and Responsibilities:
Responsibilities will include planning curriculum along with the daily operations and administrative responsibilities of the class or program. Attention to detail, organizational skills, previous experience teaching or leading groups is mandatory. Represent the City of Orangeburg Parks and Recreation Department in a positive light, follow all county policies and procedures, communicate in writing with supervisors, and keep attendance records. Current applicants would be considered to start in either Spring/Summer or Fall of 2021.
Minimum Required Education and Experience:
Applicants must be 21 years of age.
Provide some proof of training/experience in the category you wish to teach.
Flexibility to work with all ages.
Basic computer skills for using Microsoft word, email, access to a printer.
Please submit your resume and idea to Ms. Shaniqua Simmons at ssimmons@orangeburg.sc.us or call 803-533-6020.
Announcements & News
PSA FROM OUR WEE PRINCESS OF ROSES
COVID-19 Announcement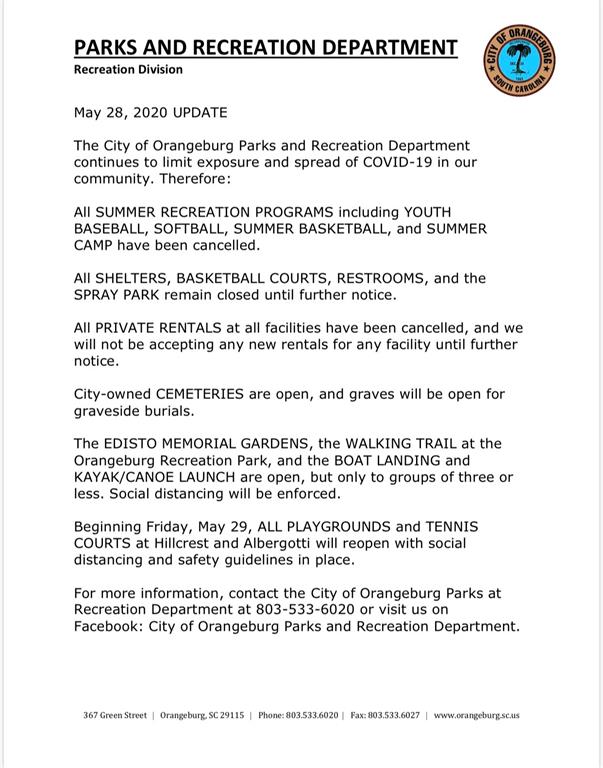 COVID-19 Announcement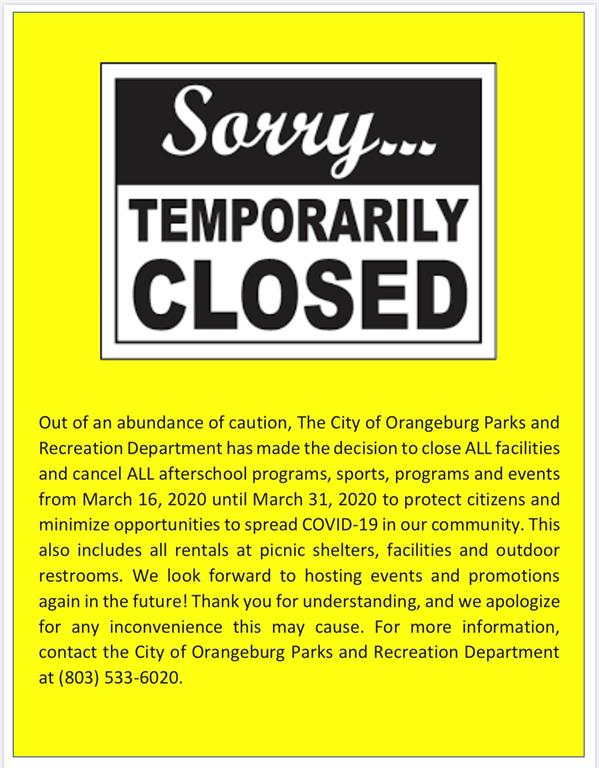 Orangeburg Parks and Recreation Department
Parks and Recreation Mission Statement:
The mission of Orangeburg Recreation Department is to enrich the quality of life in Orangeburg and surrounding area by providing diverse recreational, leisure, athletic, environmental and cultural opportunities for all residents and to administer programs and services that meet the basic needs of the most vulnerable people in our community.
Orangeburg Parks and Recreation
Hours of Operation:
Monday - Friday: 8:00am-5:00pm
Saturday & Sunday: Closed